Possibility to choose up to four colors from the following (one set of 3 LEDs, total 12 LEDs)
LED
Colour
λ [nm] / CCT [K]
Input Current [mA]
Forward Voltage [V]
Power [W]
Radiant Power [mW] / Luminous Flux [lm]
PPF [μmol/s]
PPF/W [μmol/J]
3 pcs
RED
625
350
6,3
2,2
247
5,64
2,56
500
6,6
3,3
349
7,98
2,41
700
7,0
4,9
483
11,04
2,25
800
7,2
5,7
546
12,46
2,17
1000
7,6
7,6
670
15,30
2,02
HYPER RED SQUARE*
657
350
6,0
2,1
1440
7,86
3,74
500
6,2
3,1
2059
11,24
3,66
700
6,5
4,5
2880
15,72
3,49
800
6,6
5,3
3312
18,08
3,44
1000
6,8
6,8
4090
22,32
3,31
HYPER RED SSL
657
350
6,5
2,3
1275
6,92
3,06
500
6,8
3,4
1798
9,75
2,89
700
7,2
5,0
2435
13,21
2,62
800
7,4
6,0
2780
15,07
2,53
1000
7,7
7,7
3347
18,15
2,35
FAR RED
727
350
5,6
1,9
795
0,48
0,25
500
5,9
2,9
1121
0,68
0,23
700
6,2
4,3
1518
0,92
0,21
800
6,3
5,1
1733
1,05
0,21
1000
6,7
6,7
2087
1,26
0,19
DEEP BLUE SQUARE*
450
350
8,4
3,0
2184
8,19
2,78
500
8,6
4,3
3108
11,66
2,73
700
8,7
6,1
4200
15,75
2,59
800
8,8
7,0
4620
17,33
2,47
1000
8,9
8,9
5670
21,26
2,38
DEEP BLUE
455
350
8,6
3,0
1905
7,05
2,36
500
8,7
4,4
2648
9,80
2,25
700
8,9
6,2
3277
12,13
1,94
800
9,0
7,2
3620
13,40
1,87
1000
9,2
9,2
4572
16,92
1,84
BLUE
470
350
8,6
3,0
84
4,86
1,62
500
8,8
4,4
111
6,42
1,46
700
9,1
6,4
144
8,31
1,30
800
9,2
7,3
158
9,14
1,25
1000
9,5
9,5
187
10,80
1,14
TRUE GREEN
528
350
10,1
3,5
363
3,36
0,95
500
10,3
5,2
473
4,38
0,85
700
10,6
7,4
603
5,58
0,75
800
10,7
8,5
660
6,11
0,72
1000
11,0
11,0
775
7,17
0,65
AMBER
617
350
6,3
2,2
268
5,91
2,68
500
6,6
3,3
376
8,31
2,51
700
7,0
4,9
513
11,34
2,31
800
7,2
5,7
577
12,74
2,22
1000
7,6
7,6
704
15,54
2,05
YELLOW
590
350
6,6
2,3
246
2,61
1,13
500
6,9
3,5
336
3,57
1,03
700
7,3
5,1
430
4,56
0,89
800
7,4
5,9
461
4,89
0,83
1000
7,8
7,8
523
5,55
0,71
WHITE
5000
350
8,3
2,9
444
5,88
2,04
500
8,6
4,3
608
7,86
1,84
700
8,9
6,2
799
10,20
1,65
800
8,9
7,2
879
11,22
1,57
1000
9,9
9,9
1018
13,00
1,35
Parameters were calculated for temperatures TJ= 25°C and one channel with 3 LEDs.
Radiant power for Hyper Red, Far Red and Deep Blue LEDs; Luminous flux for rest of LEDs. The wavelength for colour LEDs and colour temperature for white LEDs.
Values of these parameters were calculated for default bin and with tolerances of 15%.
* LED on special request. They have higher intensity and efficacy then standard used.
OPIS
Źródło światła LED GrowEmity pozwala przyspieszyć wzrost roślin i zwiększyć zbiory. Możliwe jest nawet regulowanie wzrostu i czasu kwitnienia. W przeciwieństwie do innych sztucznych rodzajów źródeł światła, źródła światła LED mają specjalnie dobrany spektrum dla konkretnych urządzeń. Diody LED są w pełni kontrolowane, dzięki czemu można zmieniać widmo tylko za pomocą kilku różnych diod LED. Zwiększa to wydajność ogrodnictwa i planowania zbiorów. Dodatkowo diody LED mogą wytwarzać więcej światła i mniej ciepła, niż lampa sodowa, pozwalają na oświetlenie boków lub spodu rośliny. Źródła światła LED są stosowane w sztucznej plantacji bez światła dziennego, więc rośliny mogą być hodowane niemal wszędzie.
ZASTOSOWANIE
Ogrodnictwo
Dedykowane aplikacje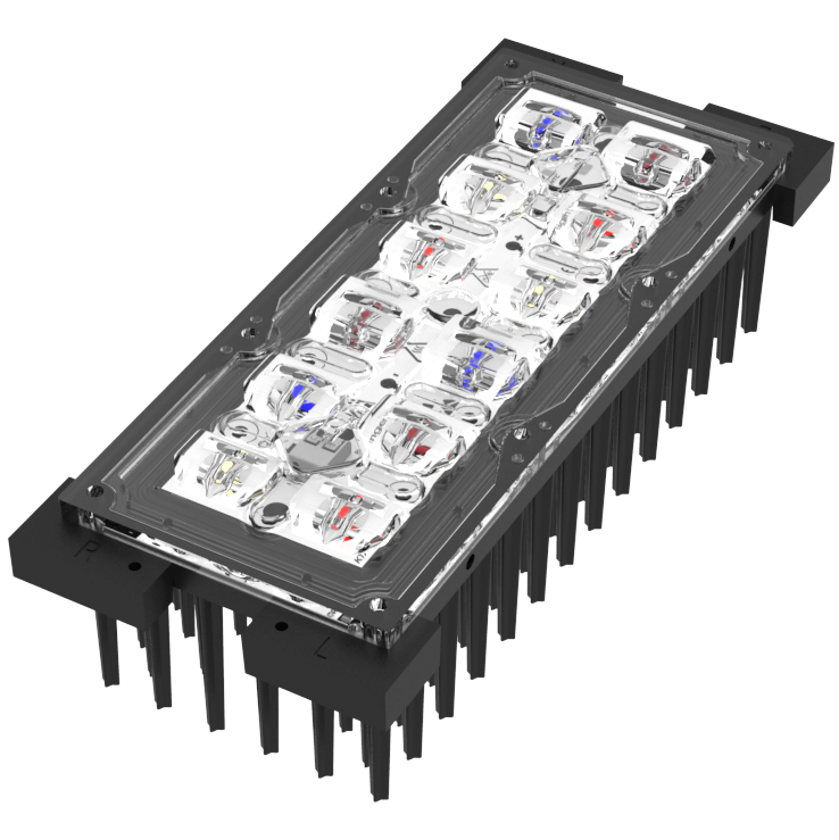 Przykładowe rozwiązanie